Lindsey Martin
As is the case with many Charleston residents, Lindsey Martin came to the South after growing up in another part of the country. Born in Michigan, she grew up in a Chicago suburb but always longed to move south. That helps explain her decision to attend the University of Florida, from which she proudly graduated in 2004.
Life changed forever upon discovering Charleston, which she describes as a simply exceptional place to live and work, a sentiment shared by her partner Britt. Immediately upon graduation, she began selling homes in the 'active adult' market.
Upbeat, energetic, and driven to do whatever is necessary to exceed the expectations of her clients, her career has been successful since the outset. As is the case with her partner, Lindsey has been a top producer everywhere she has sold. Her career mirrors that of Britt, especially after joining her on the sales team of the local Del Webb community. Every year, Lindsey ranks among the top 1% of the thousands of area real estate agents.
Lindsey and her husband Ryan have found Charleston the ideal place to raise their young sons, Bennett and Leighton. They love the outdoors, soaking in the region's endless history and finding any excuse possible to get on the water. But it is the region's people that she especially beams about.
That helps explain the rave reviews she receives from her clients. "She surpassed all of our expectations. Her attention to detail and efficiency in dealing with our cross-country relocation and tight timetable was beyond exceptional." "In a highly competitive industry, she is truly The Best of the Best." "Fabulous to work with."
Lindsey is an achiever who loves making people happy. She is driven to over-deliver which helps explain her keen ear and her attention to detail. A real estate professional in every sense, Lindsey is the ideal partner to Britt.
Britt Freeman
Britt Freeman, born in Charlotte and raised in Columbia, South Carolina, knew from an early age that she wanted to work in a career that required ongoing personal interaction. Upon graduating from Florida State, she began immediately selling real estate, first specializing in the 'active adult' market.
Her welcoming demeanor, her ability to ascertain the needs and dreams of her clients and then fulfill them, coupled with her insatiable desire to please, helped her to achieve immediate success. That is evidenced by the fact that she and Lindsey together have sold over $125M in homes in the active adult market.
Britt initially joined Lindsey in selling homes for Pulte's Del Webb community in Charleston. The two were the first agents to sell in the Cane Bay community. Since joining forces as The Martin Freeman Group, their success is off the charts. They both continuously rank in the top 1% of the thousands of Charleston-area real estate agents.
Britt is a real people person who has fallen in love with everything Charleston. That includes exploring the region's diverse cultural offerings, sampling the wide array of spectacular Lowcountry restaurants, soaking up Charleston's natural beauty and cherished history, and most of all, interacting with its gregarious residents and many visitors.
That passion, coupled with her professional acumen, is immediately transferred to her clients as is evidenced in their comments. "Britt will go above and beyond to make your home buying experience wonderful." "Britt was 100% on the ball- 100% of the time." "She really helped us throughout the entire process." "Her background in new construction was invaluable." The accolades go on.
Upon meeting Britt for the first time, it is obvious that she is a friend to many, including her young English creme retriever, Annie. She also happens to be a gifted real estate professional and an exceptional partner to Lindsey.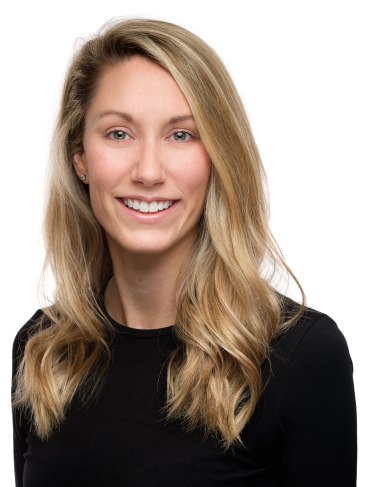 Morgan Paterson
Morgan is originally from Lynchburg, Virginia, and relocated to Charleston, South Carolina after graduating from Physical Therapist Assistant school. She worked as a PTA with outpatient orthopedics for 5 years, along with her therapy dog Tallulah Belle, before leaving the medical field to work for The Martin Freeman Group. Morgan is a proud graduate of Virginia Tech, where she was a member of the cheerleading squad. When not at work, Morgan enjoys spending quality time with her husband, Danny, and daughter, Holland. Morgan and her family can usually be found in downtown Charleston at new shops or restaurants. If you need a suggestion when you're in town, feel free to ask her!
Morgan has customer service experience with all age ranges, including the active adult population, from over ten years as a Physical Therapy Aide, PTA student, and PTA in a general orthopedics clinic. She is able to work alongside clients of all ages throughout the processes of selling and purchasing homes with patience, empathy, and communication.