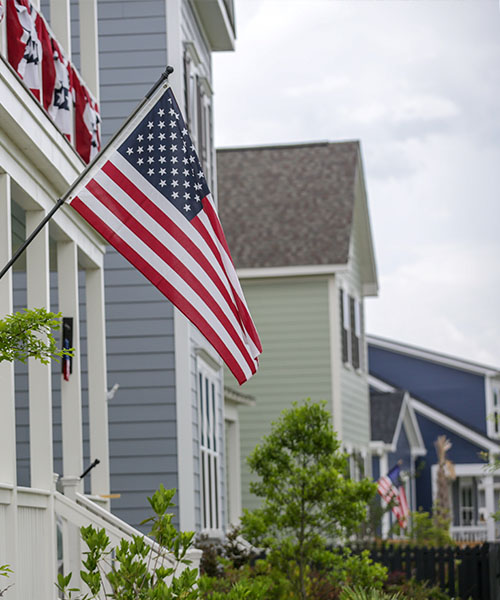 A new community as special as Carnes Crossroads doesn't just happen.
A carefully thought-out master plan is guiding the development of this vibrant, welcoming community where you can raise a family, enjoy retirement, learn and worship, work and play. Reminiscent of some of the most neighborly and authentic southern towns, it combines traditional neighborhoods with diverse residential real estate options. Carnes Crossroads also offers an array of wonderful features including parks, trails, and open green space as well as serene lagoons. Yet, it also offers all of the conveniences of small-town living… including shops and restaurants, a school and church, medical offices, and much more.
A neighborhood complete with tree-lined streets forms the core of this inviting community. Its traditional homes prove southern-style architecture is alive and well. Porches and outdoor living spaces succeed in bringing neighbors outdoors year-round.
Its convenient location enables its residents to enjoy immediate access to the attractions of Summerville and Goose Creek. But with so many recreational and social happenings within the community confines, there is little need to venture out for fun!
The historic Green Barn, located in the heart of the St. Thomas Park neighborhood, has been refurbished as an open-air gathering place. It serves as the perfect venue for a non-stop calendar of resident-friendly special events. The adjacent 25-meter community pool features beach entry and a splash-and-play area for kids. The Village Green is the first of hundreds of acres of planned parks, lakes, and open green space. Its miles of trails and greenways connect the neighborhoods, businesses, and amenities and encourage fitness activities of all forms.
Recognizing the importance of school and church in a new community, Carnes Crossroads includes a beautiful campus that is home to both Northwood Academy (Pre-K through 12) and Northwood Church. That said, quality public schools and a plethora of other churches are in nearby proximity.
Its growing business district is becoming a critical component of resident satisfaction. From the best medical facilities to retail, restaurants, and more, Carnes Crossroads carefully welcomes growth.
The Daniel Island Company has done it again. Nothing has been overlooked in this very special community located in the heart of the Lowcountry that is just a short ride to Downtown Charleston, area beaches, Charleston International Airport, and I-95.